Best Immigration Consultants in Chandigarh for Australia | Navigators Overseas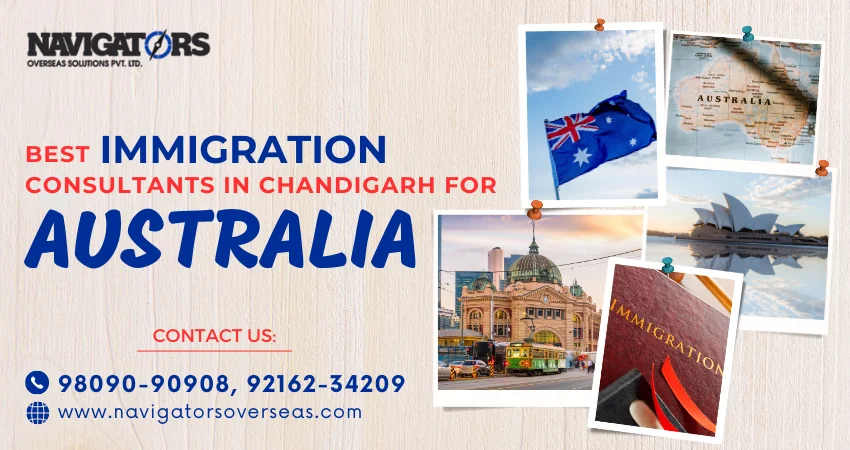 Australia is a well-known name and one of the most sought countries for offering quality education and research opportunities for international students. Among the English-speaking nations, Australia stands at number three for holding the largest number of International students after the USA and the UK. Degrees issued by Australian Institutes are acceptable all around the world.
Students who complete their graduation from colleges or universities in Australia are able to find ample job opportunities not only in their home country but around the world as well.
Majority of the Indian students want to apply for study visas in Australia, therefore, as one of the Best Australia Immigration consultants in Chandigarh in order to fulfill Student's dreams. Because of open Australian Immigration policies, it has become a multicultural nation that is absolutely safe, friendly a peaceful environment. All these factors make Australia an apt choice for international students.
Quality of Education in Australia
Students from different parts of the world look forward to studying in Australia for getting high-quality education and also for enjoying the cultural diversity and friendly atmosphere. Australia offers a modern and well-planned transportation system, up-to-date medical services, beautiful shopping malls, telecommunication options, and many other facilities. All this helps in raising the standard of living of people living in Australia. As mentioned above, the medical or the health care system of Australia is well organized as every Australian pays some amount as a Medical levy which is used for public health care, doctors, hospitals, and services. This way it is ensured that every individual gets the required and timely medical help. Coming to transportation has good networking of buses, ferries, trains, tramways, and also of airlines. The areas are divided into zones and the cost of the ticket depends on the zone one is traveling to. The international students are offered free or discounted passes which they can use to travel around the city.
Australia offers an educational experience that creates a true difference. There are certain other benefits for international students like the ESOS Act, which protects the rights of international students in terms of the right to accurate information about the course, study, institution, and even institutions' agents. Most importantly, if any education provider in Australia is unable to fully deliver the course then, under TPS (Tuition Protection Service) placement, the fee refund service is provided to international students or the government makes sure that the students complete their study in another institute. Australian Universities also provides scholarship which helps in lowering the cost for international students.
Navigators Overseas assists international students from Chandigarh, Mohali, Kharar, Zirakpur, Punjab, and other cities in studying in Australia. For more details, Contact Us.