Top USA Study VISA Consultants in Chandigarh| Navigators Overseas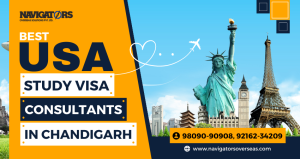 The education system in the United States is governed by the public sector, which in turn is funded and controlled by three different levels; state, federal, and local. Education is mandatory, there are various educational institutes providing quality education to students or Studying in the USA. Public education is not limited to a particular sector rather it is universally available. Different activities related to Location such as course curriculum, teaching tablet, policies, employment, and funding-related aspects I decided by the coal board which is elected locally and is controlled by state legislatures.
United States America is known for attracting more and more talent, from around the world, and people willing to enjoy high standards of education look forward to Studying in the USA destination. The United States has a blend of different cultures because there are no cultural boundaries. Students can learn about different cultures and can also find different communities on their campus.
The United States is also a hot tourist spot catering to millions of tourists every year. The geographic area of this country is very large due to which it has a wide variation in climatic conditions. The Midwest region has an extremely humid climate, whereas; the southeastern regions are hot and become freezing cold during winters. Compared to other countries, the U.S.A. experiences a maximum number of tornadoes.
The education system here understands and values the importance of practical knowledge, so they ensure to conduct frequent educational tours for their students. There are many consultants who claim to be the best USA Study Visa Consultants In Chandigarh. However, it is crucial to take help from a reliable consultant for a fruitful outcome. Students willing to pursue their higher education from IS are required to undergo five test phases for applying for a student visa.
The first step is to apply for the SEVP i.e. Student and Exchange Visitor Program.
This system some amount as fees, so pay the asked amount to Student and Exchange Visitor Program.
Fill out the application form and attach two latest photographs.
Pay the visa processing fees.
Appear for the visa interview.

Visa Processing Fees
For processing a student's visa, a fee is charged by the government bodies. This is a mandatory thing and there are three different ways to pay the fees, which are non-refundable.
Pay at the partner bank
Online payment
Pay using the phone
Some people opt for visa insurance considering that it will be of great help but the fact is that it does not have much significance for candidates applying for M1, M2, F1, F2, J1, and J2. Candidates are asked to submit the processing fee receipt at their visa interview. In some special circumstances, applicants applying for a J-class visa are not required to pay the rice fees, especially if they are visiting the country on government orders.
The last step for getting a student visa is to visit personally for a visa interview or meet. This should be done by visiting the mentioned location physically. In some exceptional cases, online interviews are conducted. It is only after this meet the visa request is approved or declined.