Best Immigration Consultants in Chandigarh for Canada | Navigators Overseas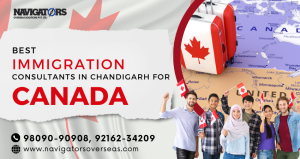 Everyone perceives Immigration to Canada as one of the best in the world. This is because of the simple reason that it brings along the pool of opportunities not only for employment purposes but also for the overall personal growth of the individual. In other words, flexible and easy Canadian visa programs make it one of the top immigration destinations in the world. Considering this, a large number of prospective clients have started applying either for a Canada Study Visa or permanent residency of Canada in Chandigarh to pursue higher education and migrate to Canada.
The country has become a prime attraction for worldwide immigrants looking for a host country to offer them excellent opportunities. Every year, 250,000 new immigrants move to Canada with the hope to have an improved quality of life.
Considering the present opportunity level for migrants, this is the best time to contact Canada Visa Consultants in Chandigarh and in turn, apply for your Canadian visa. Accordingly, our experts at Navigators Consultants have created a separate section called Canada immigration on the website. The section helps to assist many potential immigrants to get their Canadian visas processed in no time and without any hassle. Our fully dedicated and in-house visa consultants at Navigators consist of immigration lawyers and ICCRC members to help you with almost every type of Canadian visa
requirements.
Various categories of Canadian Immigration
The Federal Skilled Worker program is one of the most popular visa categories designed especially for people having desired qualifications and experience.

The Canadian Business Immigration program attracts skilled business people to the country so that they can help in significant contributions to their economy.

The Quebec Skilled Worker Program is also one of the popular immigration programs as it does not require the person to have any job offer but the intention to establish themselves in the Quebec region.

The Provincial Nominee Program is an instant way to relocate to Canada. The program assists employers in different provinces of the country to fulfill their requirements by hiring migrant workers.

Under the category of Canadian Family Immigration, one can sponsor his/her parents as well as grandparents to come and live with them in Canada.

The Canadian Experience Class category is of the persons who are already in Canada on a work permit and have work experience of working there and have the desire to become permanent residents of this beautiful country.
Navigators Overseas has gained recognition as one of the best immigration consultants in Chandigarh. With our vast knowledge and expertise, migrating to any part of the Canadian province has become easy.
Why there is a need for skilled workers?
Canada is known as the land for providing immense opportunities. As it is a bountiful maple country, it has tons of people belonging to different cultures across the world. By recognizing its diversity in both economy and culture, Canada constitutes a place where your heart remains at peace. Along with this, the booming employment industry and vibrant economy of the world make Canada a highly sought-after country for skilled workers as well as qualified professionals.
Every year, a large number of people retire in Canada which leads to the growing need of having a skilled workforce to keep their economy on the go. Thus, an entirely new world waits for skilled workers as well as other professionals who are willing to deliver their services in Canada and who are interested to make this country their new abode.
Canada has always remained on the lookout for well-educated, self-motivated, and young skilled workers as well as professionals to give their valuable contributions towards the country's economical growth. As the country has its economy based on knowledge, it always seeks job-ready professionals to fulfill its requirements and adapt them in the frequently varying job market. Canadian skilled worker visa has proved to be a life-changing reward for hardworking professionals willing to earn living in the respective maple country.
The immigration authority in Canada has continuously introduced different reforms to make the migration process transparent and hassle-free for deserving candidates. The focus has now shifted to selecting skilled workers with manageable and flexible skills required to achieve success in the present economy of Canada. Canadian work permit consultants operating in Chandigarh under the name Navigation Overseas offer the best possible visa advice on Canadian immigration.