Best Switzerland Study VISA Consultants in Chandigarh | Navigators Overseas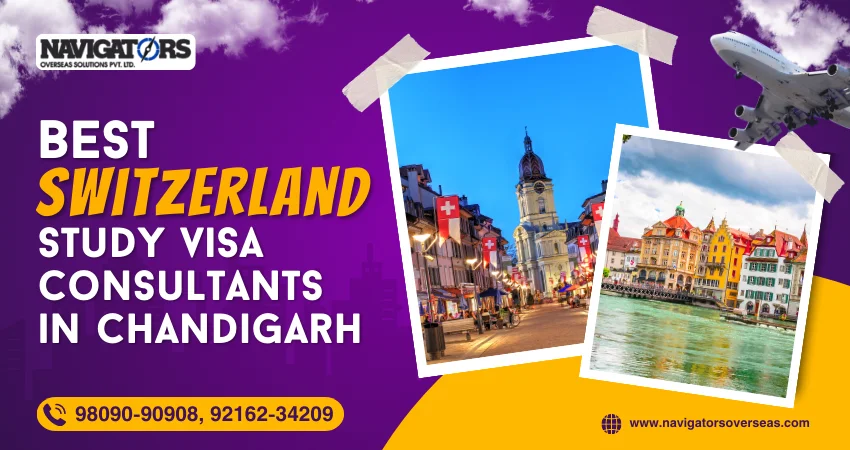 Switzerland is one of the most beautiful destinations in entire Europe. It is also known as the paradise on earth, having amazing sites for clicking pictures. For people who enjoy Nature for them, Switzerland Is the most appropriate vacation spot. Geographically Switzerland is one of the smallest nations but when it comes to the economy they have the wealthiest economy.
Switzerland is one of its kind and cannot be compared with any other nation worldwide. This is because of his inheritance which includes their tradition and culture which makes it one of the most magnificent countries around. Every year more and more people try to apply for Switzerland Visa but face a lot of problems because of limited information. Navigators consultants are considered one of the best in providing immigration-related information and helping in applying for a Visa.
If you're planning a holiday in this country then the snow-covered mountain, the crystal clear lakes, flourishing greenery, and beautiful small towns will give you one of the most mesmerizing experiences of a lifetime. As the climate of Switzerland remains almost static throughout the year, so there is no specific time for visiting this country, and every season is favorable for enjoying a vacation here.
From July to September, the peaks densely covered with snow make the climate very cold but pleasant at the same time. The majority of visitors prefer to visit Switzerland during the summer, autumn, and spring seasons.
From July to September, the peaks densely covered with snow make the climate very cool but pleasant at the same time. The majority of visitors prefer to visit Switzerland during the summer, autumn, and spring seasons.
Education system
The education system in Australia is well developed and provides quality education to its students, this is the reason why the number of international students migrating to Australia is constantly increasing. Availing of education from the Swiss University ensures a better future and higher opportunities for building a successful career. The survey report reveals that Switzerland is among those countries having the highest number of international students from around the world. Swiss universities pay more stress on the courses based on management, business, and science. However, they also offer courses like spiritual medication, sports, English language, etc.
Work in Switzerland
Students are allowed to work to make some extra money along with their studies. For this, they need to submit a certificate from the university confirming that the employment will not hamper their studies. This way international students earn their pocket money and also gain some professional experience helpful in getting career opportunities later. However, the government has restricted the working hours of students to up to a maximum of 15 hours a week this can be extended up to 20 hours on special request.
Switzerland Cuisine
The native food of Switzerland is very famous worldwide, this country is one among the nations in the entire Europe where you can find low price food, repaired by maintaining utmost hygiene. The food and beverage administration of Switzerland is very particular and strict about the hygiene level expected, every now and then they pay surprise visits to different restaurants and food outlets to ensure the quality of food is maintained. The local Swiss food is a perfect blend of meat, vegetables, and cheese mixed with various finger-licking sauces. Also, they have a wide range of deserts to suit different test pallets.
Fondue is a traditional Swiss food loved by people around the globe. Among the different variants of his fondue, cheese fondue is the most popular one. The government of Switzerland is very alert in promoting tourism and also encourages students from different countries to pursue higher education here.
Events in Switzerland
Switzerland hosts a number of events starting from modern to conventional, from spiritual to some regional events. These events display the cultural diversity of Switzerland mixed with some of the French, Italian and German cultures.